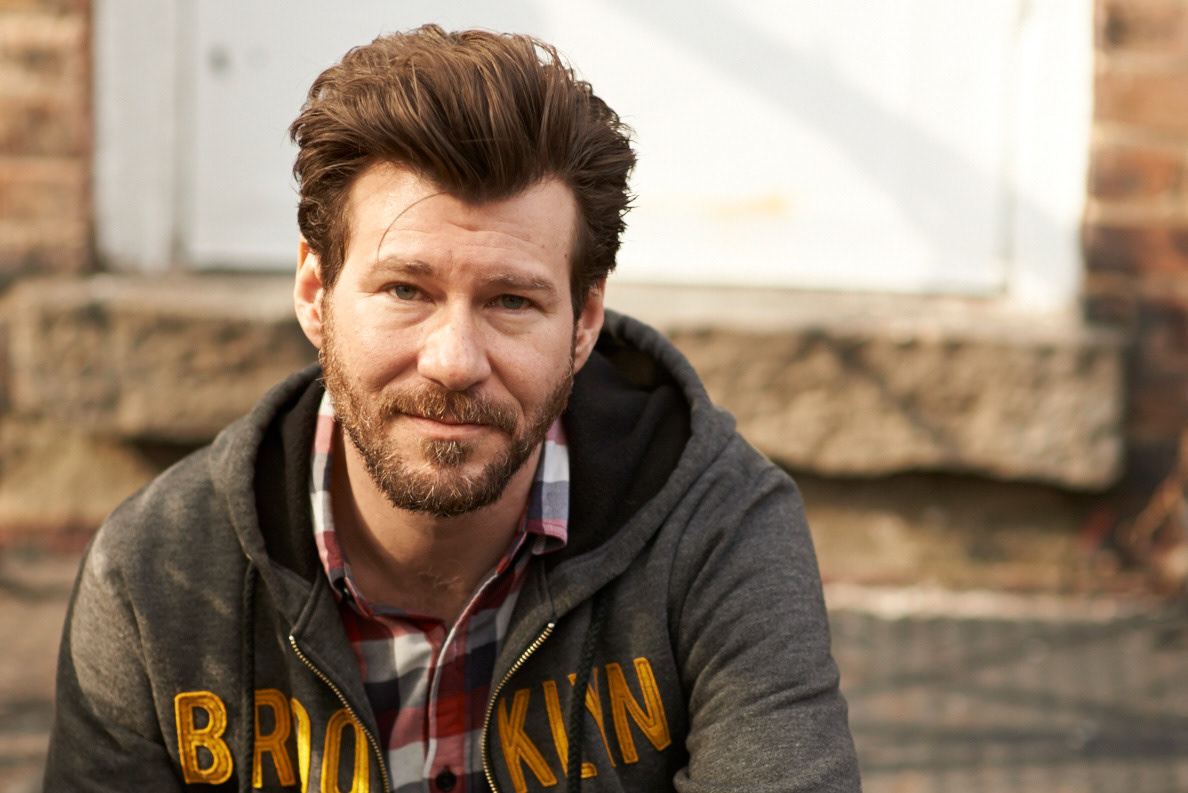 I always loved to draw. At first, it was Porsches and Star Destroyers, then still lifes and figure studies. I left college with a BFA in Art Education, but also the sobering realization that I didn't really want to be a school teacher. So, I talked my way into an internship at a small ad agency near my hometown of Newark, Delaware. I shadowed the art director and studied award annuals, ultimately deciding I could make a career out of it.
I landed my first paying job at Ogilvy in New York, working on ads for IBM, Jaguar, and Ford. After building my chops, I joined Oasis, an independent boutique downtown. During my seven-year tenure there, I learned a ton and I'm very proud of the work I did for clients like Canon, Sharp, Alitalia, and
Toyota
—a highlight being the launch of the 
Prius
.
Following Oasis, I dove head-first into the digital age. I was up for a job at McCann to work on "traditional" campaigns for
Intel
and the U.S. Army, but when I saw there was an opening at MRM, McCann's digital arm, I figured it would be more fun. I was right: I was a kid in a candy store with lots of new toys to play with, but it was my traditional-agency knowledge of strategy and branding that allowed me to excel there.
With pixels in my eyes, I joined R/GA, as a creative director on the
Walmart
account. I led a team of 30+ digital creatives to develop advertising, social media campaigns, digital tools, and applications for the world's largest retailer. 
The hard work and the relationships forged there led to an ECD role at iCrossing, building and leading their new creative department. Clients included
Hilton
, Pep Boys,
ING
,
Avon
, and
PNC Bank
—which we grew from an SEO client to become AOR for their flagship product,
Virtual Wallet
.
At Publicis, I was ECD on the global
Citi
account and was responsible for all corporate, enterprise, and sponsorship advertising. Highlights included integrated campaigns for the
Olympics
, the
Presidents Cup
golf tournament, and for
Citi Field
—home of the New York Mets. 
Currently, I am a CD at AREA 23, the crown jewel of IPG's Health Network, where I lead creative on
GSK
, Bayer, and AstraZeneca brands, most notably, the launch of AZ's COVID-19 vaccine—important stuff. 
When I'm not working on a project for an agency or client, you will usually find me with either a
camera
or a guitar in my hand—two other creative passions I've had since I was a kid. Speaking of kids, my wife Frauke and I made two of them: Julian and Arthur. We live in Crown Heights, Brooklyn.
AREA 23
VP, Creative Director


GSK, Bayer, AstraZeneca 
Publicis
EVP, Executive Creative Director


Citi, Samsung, Heineken, Axa, Abbott, new

busin

ess
iCrossing
VP, Executive Creative Director


PNC Bank, Hilton, Williams-Sonoma, Avon, Ally Bank, Benjamin Moore, Pep Boys, ING
R/GA




Creative Director, Visual Design


Walmart, Unilever
MRM//McCann




Associate Creative Director, Art


Intel, U.S. Army, General Motors, Nikon, Bertolli, new business
Oasis/Dentsu America




Associate Creative Director, Art


Toyota, Sharp Electronics, JVC, Alitalia Airlines, Canon, NYU Medical Center, India Tourism, Edison Electric Institute, GolfOnline, new business
Hill Holliday




Art Director 


T-Mobile, Southern Comfort, Riggs Bank, new business
Ogilvy & Mather




Art Director


IBM, Lotus Software, Jaguar, Ford Motor Company
R/GA
BSSP
MRM//McCann
KBS+
Mullen
360i
Edelman
Cossette
Publicis
Ogilvy
Arnold
The Creative Circus


Advertising Art Direction
The Portfolio Center


Graphic Design, Advertising Art Direction
University of North Carolina at Greensboro


Bachelor of Fine Arts, Art Education
Advertising, Automotive, B2B, Beauty, Beer, Beverage, Computer, CPG, Education, Electronics, Energy, Entertainment, Financial Services, Gaming, Government, Health Care, Home Goods, Hospitality, Lifestyle, Luxury, Manufacturing, Mass Media, Music, Non-Profit, Pharmaceutical, Retail, Software, Sports, Startups, Technology, Telecommunications, Transportation, Travel & Tourism, Wine & Spirits
Citi, Samsung, Toyota, Heineken, Walmart, Unilever, Hilton Worldwide, General Motors, Verizon, Nikon, Ford Motor Company, Alitalia, Canon, NYU Medical Center, Southern Comfort, Anheuser-Busch, Hyatt, Budweiser, BankBoston, New York Mets, AstraZeneca, Ally Bank, Goldman Sachs, Bayer, SiriusXM, Sharp Electronics, T-Mobile, IBM, AXA, PNC Bank, Williams-Sonoma, Pep Boys, ING, Avon, Benjamin Moore, McGraw Hill, Amtrak, JVC, U.S. Army, Bertolli, Lily, Minolta, Lotus, Nextel, GolfOnline, Sears, J.C. Penney, GSK, India Tourism, Abbott Laboratories, National Center for Family Literacy, Edison Electric Institute, Riggs Bank, Salomon
Advertising, Art Direction, Creative Direction, Visual Design, Presentations, Storytelling, Mentorship, Leadership, Strategy, Copywriting, Conceptual Development, Entertainment, Experiential, Comedy, Integrated Campaigns, Brand Campaigns, New Business, Digital Activations, Team Building, Business Development, Fostering Creative Culture, Interactive Experiences, Mobile Apps, Experiential, Events, Brand Films, Branded Content, Broadcast, Manifestos, Websites, Social Media Content
Godfrey "Don" DeMarco, a great-uncle on my mother's side, was a Madison Avenue art director back in the 1940s—a full decade before advertising's fictional poster child Don Draper sold the name "Carousel" to Kodak. As Uncle Don got older, he began dyeing his hair to appear more youthful and continued working until just a few years before he passed away in his late nineties. He was tickled that I followed in his footsteps and shared many stories about the good old days with me. I'll always remember him as the guy who taught me how to draw a TIE fighter in two-point perspective when I was eight.